Find Our Fans February Giveaway via Love Kissed Cozies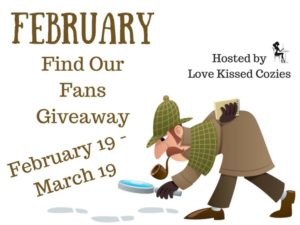 To thank all my awesome readers, I'm taking part in Love Kissed Cozies February giveaway. Enter to win a Kindle or Amazon gift cards.
How it works: Follow the link and enter to win–no purchase necessary. But be sure to do so before March 19, 2017!
When it became apparent that magic and mortals would never be able to get along, Nevermore was founded as a safe haven for all those with magic in their blood. A cozy little town folded in between the Here and the Now, just this side of Reality.
So grab a dragon or broom (or your favorite mode of transportation) and come sit for a spell by the fire.
There are currently two series (with a couple of more in the works) set in Nevermore. Click on the links below:


Coming Soon . . . 🎃